Two Modern Apartments In ​Great Locations In Edinburgh with free on-site parking and Wi-Fi
Two central one bedroom apartments (both with king-size beds) in superb locations, close to Edinburgh's main tourist attractions with free on-site private parking and free Wi-Fi. The Tytler Gardens apartment is on the ground floor near the Royal Mile and Palace of Holyroodhouse and the Allanfield apartment is on the 2nd floor just a few minutes walk from a variety restaurants, cafes and, shops and bars.


Please click on "Allanfield apartment" for info on this central modern apartment which sleeps 3 with free on-site private parking, wi-fi and free netflix access
---
Tytler Gardens apartment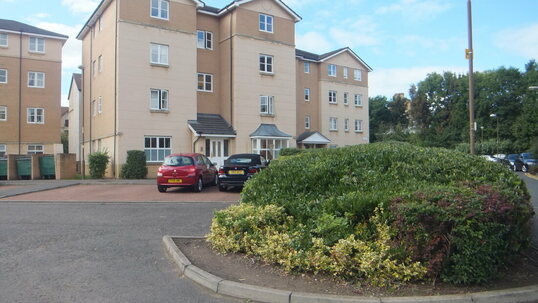 Location of our Tytler Gardens Apartment
Fancy having royalty as neighbours? This fantastically located central apartment is almost next door to The Palace of Holyroodhouse, the Queen's residence whilst in Scotland. Across the road from the Palace is the Scottish Parliament Building and Dynamic Earth. From there, a short stroll up the Canongate leads to the High Street where at the top you will find the famous Edinburgh castle (this street from the Palace to the Castle is known as the Royal Mile) . The accommodation is also within walking distance of most of the fringe and festival venues and the shopping area of Princes Street.

Situated at the edge of Holyrood Park, the apartment is well located for access for walks, runs, cycling and climbing to the top of 'Arthur's Seat' the extinct volcano. The view from the top is well worth the climb and we have provided binoculars for your use. This walk has been voted the 9th best city hike in the world by 'Lonely Planet'.

Modern apartment (non smoking)
This exceptionally clean modern apartment with one bedroom with a UK king size bed, living room, separate kitchen and bathroom has every conceivable comfort and convenience for your stay. We provide everything you will need so there's no need to go shopping for the basics like, soap, kitchen roll, etc. You will find a free welcome pack on your arrival to get you started. We have a selection of maps, guides, books and DVDs for your use and Wi-Fi is also available free of charge together with IPOD docking and CD player. Of course all bed linen and towels are also included.

We have decided to let out our apartment to a maximum of 2 guests to ensure the best possible experience. We have therefore been able to provide a comfortable quality sofa in the living room as a sofa bed is not required. We have furnished the apartment carefully, choosing stylish quality furnishings for an enjoyable stay for our guests. The apartment is heated throughout and is lovely and warm.

Access
As the apartment is on the ground floor there are no accessibility problems for the infirm. We also provide a 'meet and greet' service at no extra charge to ensure you have gained access to the apartment and to answer any questions you may have.

Parking
Free private car parking, which is a rarity in central Edinburgh is provided for those arriving by car. However, a car is not
necessary as all the main tourist attractions are within walking distance and Edinburgh has a fantastic regular bus service if you want to go further. Just outside the apartment there are cycle racks for any guests arriving with or hiring bicycles.

Babies under 2 years old
If you have your own travel cot and cot bedding you are welcome to bring your baby to stay at no extra cost.
---

For THE best price - book with us directly. Please text, phone or EMAIL - 07722882089 info@edinburghpalaceapartment.co.uk if you have any questions before booking

guest reviews
REVIEWS FROM OUR PREVIOUS GUESTS

April 2019 - This apartment provided an excellent venue for our short stay in Edinburgh. Our host Lynn had thought of everything to ensure we had a very comfortable stay. She was generous in allowing us to check in early so we could juggle our luggage and car rental return. The apartment was beautifully furnished and well positioned to ensure a quiet location while conveniently positioned just a few minutes from lovely parklands, Arthur's Seat and also the start of the Royal Mile.​

December 2018 - The apartment was ideally located for exploring Edinburgh. It was very comfortable and well-equipped and Lynn and Paul went out of their way to make sure everything worked well for us
​
​November 2018 - "Very clean and great location" - Lynn thought of everything, good location for royal Mile clean and tidy would recommend this to anyone travelling to Edinburgh

October 2018 - "Excellent location" - The location was excellent. Only a short walk to the Royal Mile and the Old City, close to the train line and bus routes as well as a car park for our hire car.

October 2018 - "Great apartment and service" - The apartment was well equipped and the parking was good. Lynn was very attentive

September 2018 - "Simply amazing and brilliant location. Couldn't ask for more" - The apartment offered great comfort and facilities. It was spacious and everything we needed was there. The apartment was in a great location as so much was within walking distance. The was also ample parking spaces on the site.

August 2018 - "Edinburgh Palace Apartment - good location" - Only a few minutes walk to royal mile and Edinburgh fringe and also to supermarket facilities. Good quiet location, no trouble sleeping. Good facilities overall.

June 2018 - "Faultless!" - The apartment was in a great location and was equipped with everything we needed and more!

May 2018 - "Excellent location and value for money!" - Lynn had thought of everything. The apartment was in an excellent location and was very well equipped with everything we needed and more!

May 2018 - "Awesome" - Its location, cleanliness and fantastic host.

April 2018 - "Fantastic location" - The apartment is in an excellent location for all the main attractions in Edinburgh.

January 2018 - "Great stay"
"The apartment is very cozy, with everything that you might need for a great stay. Parking is a great bonus"

October 2017 - "Would highly recommend!!!"
"Everything was amazing! Couldn't fault anything. Lovely, clean apartment. Lynn was so friendly and made us feel so welcome!"

September 2017 - "comfort and warm apartment"
"Cozy apartment and fully equipped, very close to the city center just a few minutes walk and with a very friendly host!"

July 2017 - "Super Midweek break"
"Wonderful location, lovely apartment, great parking and super host"

June 2017 - "Excellent Communication"
"Excellent apartment, ideal location near city centre."

​June 2017 - "Great location"
"Great location near the Royal Mile. Very clean with lots of extras. Craig gave us a friendly welcome and was very helpful with ideas for our stay"

March 2017 - "Nice stay in a great city"
"It was possible to enter the apartment an hour earlier than the check-in time. The apartment is a nice size, very clean and the kitchen well stocked. About 10 minutes walk from the Royal Mile".

​January 2017 - "We loved it. Thinking of coming back"
Host very welcoming and helpful, giving a lot of precious information. Useful maps available in the apartment. Rooms well heated and cozy. Well equipped kitchen, with basic ingredients. Few minutes walk to the city center and near airport bus stop. Overall a great location also for longer stays in Edinburgh.
​
November 2016 - "Clean, easy to book with great location and free parking"
​"Nice apartment in excellent location. Near lots of Edinburgh attractions, do go for a walk up Calton Hill for great views. Would recommend."

October 2016 - "Lovely apartment near Royal Mile"
"Handy location, left the car parked up right outside the apartment and walked to all the attractions. "

October 2016 - "Amazing find"
Fabulous apartments everything you need provided. Location brilliant. Craig was a lovely lad nothing is too much trouble. That good I am going back in April

August 2016- "Fabulous"
Everything from the last min directions to the greeting. All the little extras.nothing too much trouble.location was great.

​July 2016 - "Highly recommended"
Clean and comfortable Apartment. Close to the City Center and most of Edinburgh's attractions. We got a friendly welcome. All contacts with the management were very easy.

April 2016 - "Parking was a huge bonus"
The owner was lovely--- accommodating but not intrusive . Flat had hot water---- in endless amounts !

February 2016 - "Rugby weekend"
All home comforts so far better than a hotel or B n B. They provided milk, cereal, teabags, coffee and choccy bars so we didnt even need to dash to a shop to get stuff for a cuppa...which was a lovely touch. Its only 5 mins walk to the Royal mile so great location.

December 2015 - "Fantastic free parking"
"Craig was exceptional at getting me settled in after a long flight from the USA. The location is perfect for a visit to Edinburgh and the free parking was great for my rental car"

​October 2015 - "Wonderful location with wonderful owners!"
The Palace Apartment by Lynn and Paul was perfect for our week long visit to Edinburgh. They gave us transportation schedule help, places to go and provided immediate necessities in the way of coffee, milk, cereal, etc in the apartment when we arrived. Lynn checked up on us via email to see if all was well and we were enjoying ourselves - WE WERE! The apartment was immaculate, VERY QUIET and well furnished with everything we needed. We strongly recommend the Palace Apartment for a great visit in Edinburgh!!!

July 2015 - "Lovely comfortable flat with everything you need"
Clean, comfortable, well equipped flat in ideal location - easy stroll to Royal Mile and less than ten mins walk from local shops. Owner friendly.

June 2015 - "Look no further..."
We've just returned home from our 2nd visit to this apartment and want to give our recommendation to anyone who's looking for a stylish 'central' stay in the Capital . The ground floor flat is light, spacious and very well furnished. Everything you might need on holiday is supplied by the welcoming owner (Lynn), as is equipment for those wishing to cater for themselves (Supermarket close by). Because of it's situation, there is access to every type of eating establishment within a short walk or the local bus-service (which is just along the road and delivers you to many of the 'sights' of Edinburgh). The accommodation is warm, very clean and with a constant supply of hot-water ... also very quiet! We sincerely hope we will be lucky enough to have a third visit next year!
Can't give it a high enough recommendation

April 2015 "Great location"
5 minutes walk to Holyrood Palace. Apartment very comfortable, lovely welcome from Craig. Would stay here again.

March 2015 - "WOW This is a great apartment in a lovely area"
Lynn and Paul were lovely , Met on arrival and communication throughout was spot on. The apartment is well within walking distance to everything, the parking permit and space was a real bonus. The description was 100% and the owners leave you everything . Its so clean and well maintained with guide books and a personal folder with hints and tips. LOVED EDINBURGH such a friendly city. We went for my boyfriends 30th birthday 3 nights of fun and romance and we had just that it was perfect .....we would liked to have
stayed longer. THANK YOU Lynn and Paul

March 2015 - "Top marks for location and comfort"
The flat was spotlessly clean and always lovely and warm despite the cold winds outside. With such a convenient location we were ideally placed for sightseeing and for visiting great restaurants and bars. We enjoyed climbing Arthurs Seat, lots of city walks and were able to walk as far as Leith and Stockbridge without having to resort to public transport. Despite the fact that we arrived a little ahead of schedule, Paul was there to welcome us and give us the keys. All in all we had a great week and would not hesitate to recommend others to do the same trip.

February 2015 - "Great apartment"
We had an excellent stay, the apartment was perfect and we were telling the friends we met with in Edinburgh how impressed we were. It was in a great location. We would definitely book again and recommend it to others. Craig met us there on arrival and it was great to talk to a local who knows the town well.

January 2015 - "We could not have asked for more"
The apartment is spacious, comfortable and well located. We really appreciated the owner's attention to detail and willingness to help. We had a great stay. Highly recommended.

January 2015 - "Perfect"
The owner Lynn was so helpful from booking to arrival and helping us find somewhere for Christmas lunch. Accommodation was perfect in every way, everything you need for a couple, location was perfect for exploring Edinburgh. Just wish we had more time, will definitely be back. Thank you.

December 2014- "Great location, lots of parking, clean flat and nice decor!"
Lynn was really friendly and accommodating when arranging to hand over the keys. Flat was in tidy and clean condition with nice
decor. Fresh towels laid out and essentials like tea bags, coffee and milk at the ready for our arrival - very thoughtful additions.
Clear instructions left on how to work all appliances, wifi etc. Internet connection stable throughout our stay and bed was very comfy. Flat is in central location, while still having plenty of parking available. Really enjoyable stay!

November 2014 - "Great location for exploring Edinburgh"
This easily maintained ground floor apartment is an ideal location for exploring the city on foot. It provides a great location, since it is close to Holyrood Palace and the Royal Mile. From this property we walked across a large section of the city. it is also easily placed for a visit to Leith and Portobello by car. We visited in November, and were warm and comfortable in the apartment throughout our time there. The owner welcomed us on our arrival and we were pleased with the ease of arranging our visit. Thoroughly recommend
to single or couples looking to explore this culturally vibrant city.

November 2014 - "Excellent accommodation for 2 people. Location very good."
Very well appointed and well equipped. Fantastic location for the city centre. Good value for money.

October 2014 - "Clean, comfortable and excellent location"
The apartment was spotlessly clean and very comfortable. Virtually everything you need for a stay is included in the apartment complete with guide books and binoculars! Extremely quiet and friendly neighbours and yet only a few minutes walk from Holyrood House and the Royal Mile. Lynn and Paul are very welcoming and thoughtful hosts with a welcome tray of teas, coffees and biscuits etc. - Paul met us with the keys and nothing was too much trouble. I honestly would not stay anywhere else for a break in Edinburgh - absolutely first class!

October 2014 - "Excellent in every way"
Edinburgh is a superb city for a break and this apartment is an excellent place to stay to explore it. It is a five minute walk from Holyrood Palace and the Scottish Parliament, at the foot of the Royal Mile. Then, a further walk up the hill and you're at the castle and Old Town. There are frequent 'buses, though, if you need them to reach Princes Street. We didn't! The apartment itself is compact and warm, clean and very well-equipped, also very quiet. The bed is very comfortable and there is plenty of bedroom storage. Parking on the complex is no problem, and the car stayed put between arrival and departure (four nights). Value for money; comfort; cleanliness; convenience - top marks!

October 2014 - "First Class"
A great place to stay, location is perfect for exploring Edinburgh. Free parking is a bonus. Very safe , great amenities everything you could ask for and more. Management team were first class very attentive and great communication. Highly recommended. Perfect place to stay. Thanks

September 2014 - "Excellent location, quiet, convenient and comfortable"
The accommodation was perfect for a stay in Edinburgh. The apartment was well set up with a very comfortable bed and adequate space for a couple . Being on the ground floor was an added bonus as there were no stairs to carry luggage up. The location was very quiet and convenient as it was within walking distance of the Royal Mile, Edinburgh Castle, Holyrood Palace and Arthur's Seat. We only used our car when travelling out of Edinburgh for day trips. Parking was easy to find in the complex. We also greatly appreciated being rescued and led to the accommodation when we got lost on our first day. Excellent service! The only suggestion I
would make would be to have a larger table for dining. (note from owner - small bistro table now replaced with larger dining
table)

September 2014 - "Excellent location"
Excellent location with plenty of parking, less than ten minutes walk to Holyrood Palace and bottom of Royal Mile. Good transport links and close to large supermarket.

Aug 2014 - "Great few days"
The apartment is clean and well equipped It is in an ideal location just round the corner from Holyrood Palace which is at the end of the Royal Mile, the other end being at the castle. We were there 3 nights and walked everywhere as it's a great city to explore. Parking is free by the apartment if you go by car which is a bonus in any city. Would recommend it.

July 2014 - "Wonderful apartment, great location, excellent value!"
We were very happy with the apartment. It's nicely decorated and there's plenty of room. Storage space in the bedroom is excellent
and the kitchen is fully equipped. It is in a good location and the free parking is excellent as it's very difficult to find so close to the centre. We really enjoyed our stay and will definitely be coming back. Thanks Lynn!

July 2014 - "Great Location & a Lovely Apartment"
I would definitely recommend this property. The location meant it was easy to walk into the city centre and yet it was a very quiet area. Free parking on site meant coming by car was easy (though we didn't need to use the car during our stay). The apartment itself was clean, tidy & well equipped. Plenty of useful tourist leaflets and guidebooks were there to use. Welcome pack was very helpful so we could have a coffee and sort ourselves out without having to dash to the shops. Lynn has been friendly & helpful at each stage from initial booking onwards.

June 2014 - "Just great..."
A lovely bright stylish apartment which is very convenient for all of Edinburgh's iconic 'must sees'. A welcoming owner who
makes sure her guests are well catered for , so that their stay is one to remember - thank you Lynne, we'll be back.

April 2014 - "Perfect location, very clean, very helpful owners!"
We stayed for one week in this lovely and very clean apartment. It was an excellent place to stay for two people. The owners were extremely helpful and accommodating, even purchasing an item we needed but could not find, so that we had it on arrival. We also arrived early, and they made arrangements for us to check in earlier than planned. When we could not reach them due to a glitch in technology, we were delighted to find them waiting for us at the apartment with the keys! The location was superb - literally 5
minutes walk from the bus stop, 10 minutes walk to the grocery store, and 6 or 7 minutes walk to the foot of the Royal Mile, the Palace of Holyrood House and the Scottish Parliament Building. It was VERY easy to get around from here. There were many helpful tourist brochures in the apartment - as well as maps, an Edinburgh guide book, bus schedules, and more. The welcome tray with tea, coffee, and snacks was a nice touch. Free wi-fi was helpful too. We would most certainly come again, and highly recommend it to others. Thank you for everything! We loved our visit to your wonderful city and can't wait to return!

April 2014 - "Perfect Apartment, Ideal location to see Edinburgh tourist spots"
We arrived at apartment earlier than planned, both Lynn & Paul were happy to let us book in early, Gave us good sound advice and
directions. The location is perfectly located for seeing all the sites of Edinburgh. Minutes away from the royal mile, Scottish Parliament and Hollyrood Palace. The apartment is well furnished, clean, tidy and that bed, well, we wanted to take the bed home with us, so comfortable . We never wanted for anything in the apartment, everything we required was there and the welcome pack was well received on arrival, a very nice touch that. After a rather exhaustive day at Edinburgh zoo the Wife spoke how she was looking forward to getting back " Hame " to the apartment. We intend to come back again. Thanks Lynn & Paul for your kindness & advice. Well recommended to all by us.

March 2014 - Bright, spacious and ideally located!
"My boyfriend and I spent five days in this apartment during our stay in Edinburgh. It brought our holiday from brilliant to fantastic! It's spacious, well equipped and less than ten minutes from the city center. Ideal home away from home! Lynn was extremely friendly, helpful and easy to contact! I couldn't recommend this apartment enough for anyone looking for accommodation in the city!"

March 2014 - Clean, comfortable, a real 'home from home'
"The apartment was perfect for our needs. Cosy, modern and very well maintained. Lynn met us on arrival and explained everything
we needed to know. We settled in with nice cup of tea, everything was supplied on a welcome tray which was great. We walked into town every day, a pleasant 10 minute walk takes you to The Royal Mile so location wise the apartment is perfect for seeing all the sights. When we arrived home each night the apartment was lovely and warm and we slept well as the bed was really comfortable. I would highly recommend this apartment to anyone looking to stay in Edinburgh, we will definitely be back."

March 2014 - "Free Parking!"
"An amazing location near the Royal Mile and Holyrood Palace. Also handy for Holyrood Park, we borrowed the binoculars from the apartment and climbed up Arthur's Seat. What a view from the top, not to be missed! The apartment was very clean and supplied us with everything we needed, even spare bedding and towels which we didn't need in the end. The parking is great and being free is a
huge saving in Edinburgh. All in all, a very comfortable and convenient stay."

March 2014 - "Excellent location for the Old town"
"The apartment was just what we needed without any fuss or frills. Everything required was already on site. The flat location and parking are its best features, we just left the car on site and walked through to Holyrood in 5 minutes. For us the fact it was on ground floor was essential. All the other facilities were clean and tidy plus the bed was very comfortable. Lyn met us and explained all the bits and pieces we may need to know over our stay. Many thanks for a pleasant stay."

Feb 2014 - "Amazing apartment"
"On arrival met Paul who was extremely helpful and explained everything very well about the apartment. The apartment was spotlessly clean and very warm which was perfect since it was freezing outside. Absolutely loved my stay there ,definitely recommended and will book again. Thank you very much for the lovely service provided by Craig"

Feb 2014 - "Excellent self catering facilities"
"Lovely apartment with fantastic range of kitchen equipment and handy extras. The wardrobes were huge, so was able to get everything unpacked and organised easily. Was really impressed with the Wi-Fi signal which was good throughout my stay. Would love to go back again."

Feb 2014 - "Convenient location, lovely walks"
"Flat was very well equipped and Lynn very helpful to ensure a comfortable stay. Flat is within easy walk of Arthur's Seat, Holyrood Park and the Royal Mile. Shops and bus stop conveniently close. Flat was very clean and nice to have a lovely bath after wintery walks :)"

Feb 2014 - "Excellent facilities"
"I stayed at the apartment for a midweek business trip and found the range of kitchen facilities fantastic as I was actually living there and needed the full range of equipment and larder items that I couldn't bring with me or have time to buy. The level of cleanliness was to a very high standard making living there very Comfortable. I have stayed in Edinburgh before and the parking has been really difficult but this apartment has its own parking area for guests which made my trip so much easier. Will definitely be back!"

Jan 2014 - "Second to none"
"My girlfriend and I visited Edinburgh for the New Year Hogmany celebrations. We were very pleased with this apartment as it was clean, modern and secure. Located a short walk from Holyrood Park, Holyrood Palace, the Queen's Gallery, Scottish Parliament and the Royal Mile leading to Edinburgh city centre, it was an excellent location. Maps, information, dvds and some refreshments were
available and we were able to park close to the apartment. Lynn met us and gave us the keys and answered any questions we had before leaving us to our own devices. We would definitely come back and would highly recommend it to anyone. Full marks!"

Dec 2013 - "Fantastic location"
"Great location, not far from Royal Mile so we just walked everywhere to see the sights. The apartment was very modern, clean and new feeling. We found the free on site parking really handy as we arrived by car. The welcome pack was very useful saving us a trip for milk, coffee etc".

Nov 2013 - Would highly recommend
"Apartment is lovely. Would definitely recommend it to friends. Hope to come again soon!"

Nov 2013 - "Great location"
"We stayed here for weekend, we received a very warm welcome from Lynn and Paul. They were very helpful and informative. The accommodation was clean and well equipped the location is very convenient to Edinburgh Mile. We would definitely recommend it."

Nov 2013 - "Great value for money"
"Walked everywhere from here, nice apartment, cooking facilities were clean and easy, very warm in winter months. All in all, great value for money!"
JUST A SHORT WALK TO THE ROYAL MILE (tytler Gardens apartment